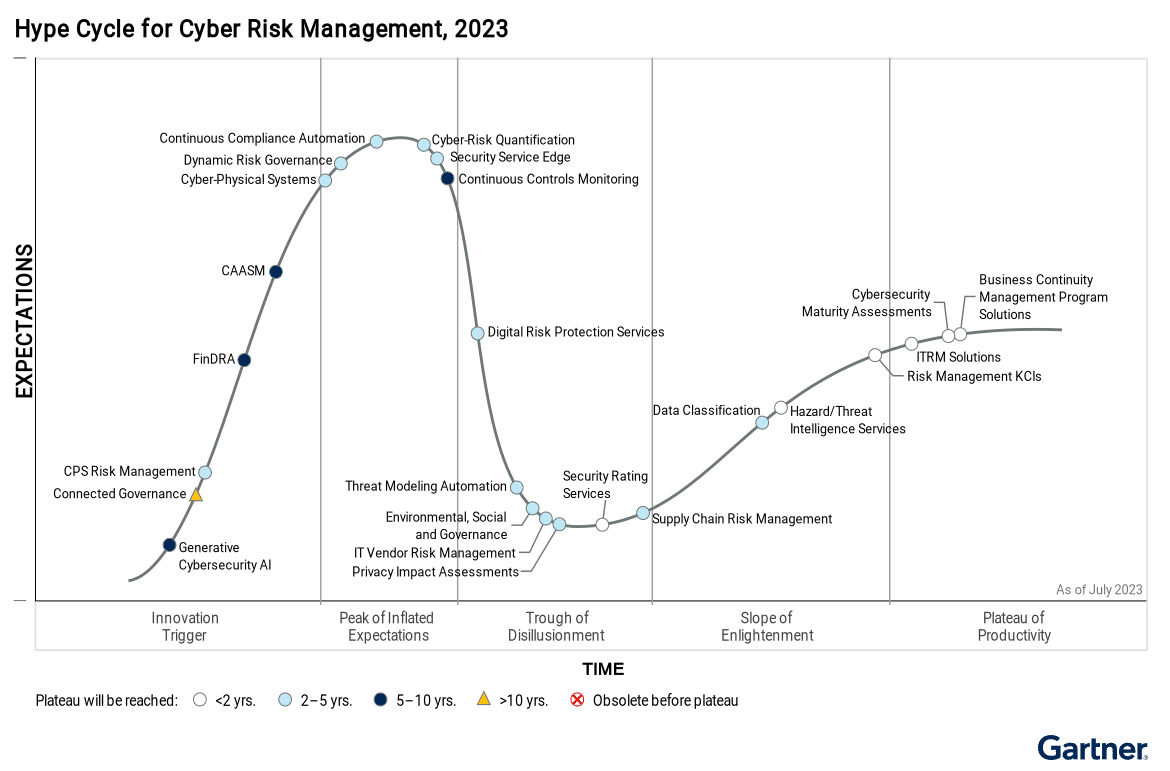 Recently, it has been announced that Quod Orbis has been cited as a sample vendor in Gartner's Hype Cycle for Cyber Risk Management, 2023 authored by analysts, Deepti Gopal, Sema Yuce & Michael Kranawetter.
The Hype cycle published 25th July, urges security and risk management leaders to use this research to evaluate the impact of new and evolving solutions to inform appropriate adoption decisions.  It goes on to state that adopting cyber risk management technologies such as Continuous Controls Monitoring, helps uncover the impact of cyber risk and supports business and compliance goals.
Continuous Controls Monitoring has been added for the first time to reflect new approaches for security controls management and highlighted as a key technology in facing the following rapid and evolving challenges.
Naming armed conflicts, climate changes, talent risk, geopolitical divide, talent risk and inflation in 2023 as key challenges for enterprises, the report also highlights these issues are being compounded by the new, rapid and unconstrained development in and adoption of technology such as generative AI. This highlights the urgent need for security and risk leaders to challenge their "Status Quo" and urgently focus on their operational resilience and efficiency.
Martin Greenfield commented "This announcement from Gartner is an important acknowledgement of how imperative the CCM technology is for enterprises to obtain total visibility of their entire cyber ecosystem. QO's particular technology connects to any data source, allowing our clients to have full and complete assurance that they are seeing a true single source of truth of their cyber risks in real time with actionable intelligence, so Gartner's inclusion of our technology in this Hype Cycle is indicative of the rapidly growing need of our CCM technology to combat the current exponential rise in cyber risk."
The full report can be accessed here. To find out more about our Continuous Controls Monitoring platform click here.